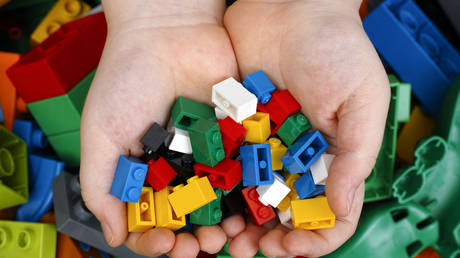 The toymaker had previously pledged to start using sustainable materials in production
Lego, the world's largest toymaker, has abandoned a plan to start making its iconic bricks from recycled drink bottles instead of oil-based plastic, the Financial Times reported on Sunday.
According to the report, the Danish company, which makes billions of Lego pieces each year, has found that making bricks from recycled polyethylene terephthalate (RPET) would lead to higher carbon emissions.
In 2021, Lego started researching a potential transition to RPET from acrylonitrile butadiene styrene (ABS), which needs about 2kg of petroleum to make 1kg of plastic. ABS is used in about 80% of Lego blocks. It makes the bricks durable and also easy to assemble and pull apart.
"We tested hundreds and hundreds of materials. It's just not been possible to find a material like that," Lego CEO Niels Christiansen told FT.
"It's like trying to make a bike out of wood rather than steel," the company's head of sustainability, Tim Brooks, said, noting that replacing ABS proved far harder than they imagined.
Lego is now reportedly planning to make each constituent part of ABS more sustainable by gradually adding more bio-based and recycled material.

READ MORE: Toy giant falls victim to delivery shortage

"It's not going from being 0 to 100% sustainable from one day to the next, but you start with elements of it being based on either bio materials or recycled materials. Maybe it's 50%, or 30%, or 70% based on that," Christiansen argued.
Lego initially had a target of eliminating all petroleum-based plastics in the materials it uses in its play sets by 2030. The company aims to get rid of single-use plastic bags used in packaging its bricks by 2025 with many current sets featuring paper containers instead.
For more stories on economy & finance visit RT's business section