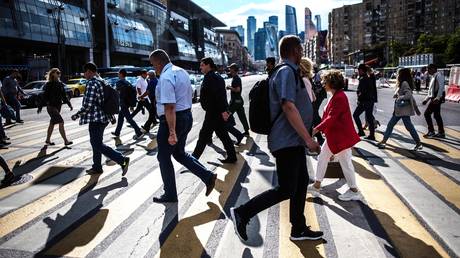 The jobless rate in the Russian capital was 2.2% in 2022, according to the city's deputy mayor
Moscow had the lowest unemployment rate among major cities in G20 nations last year, Deputy Mayor for Economic Policy Vladimir Efimov said on Tuesday. The rate was calculated in accordance with methods used by the International Labor Organization (ILO).
"According to the ILO methodology, unemployment in Moscow at the end of 2022 dropped to 2.2% compared with 2.6% in 2021," Efimov stated.
He also noted that the labor market in Moscow remains stable due to the development of industry and high-tech enterprises, and the creation of production facilities aimed at import substitution.
"In the Russian capital, existing companies are expanding their activities and new ones are appearing to attract workers. This stimulates the development of related sectors of the economy, creates a balance in the labor market and helps reduce the unemployment rate," Efimov explained.
According to the report, Moscow was closely followed by Tokyo where the jobless rate was 2.6%, and Beijing at 3.1%. New York was in seventh place with unemployment rate of 4.3%, while London ranked lower at 4.4%. Shanghai and Los Angeles rounded off the top ten in the ranking with same jobless indicator of 4.5%.
Despite facing economic headwinds such as Western sanctions and the subsequent exodus of a number of large foreign companies, the Russian capital experienced substantial growth, which was driven in particular by industry, finance, and telecommunications.

READ MORE: Moscow's economy grew 20% in just five years – deputy mayor

According to Efimov, the labor market in Moscow has remained stable. He said this was ensured by a balanced policy in the field of employment, measures to support enterprises and businesses, as well as a government program to replace products of foreign brands with domestic goods and those from 'friendly' countries.
For more stories on economy & finance visit RT's business section